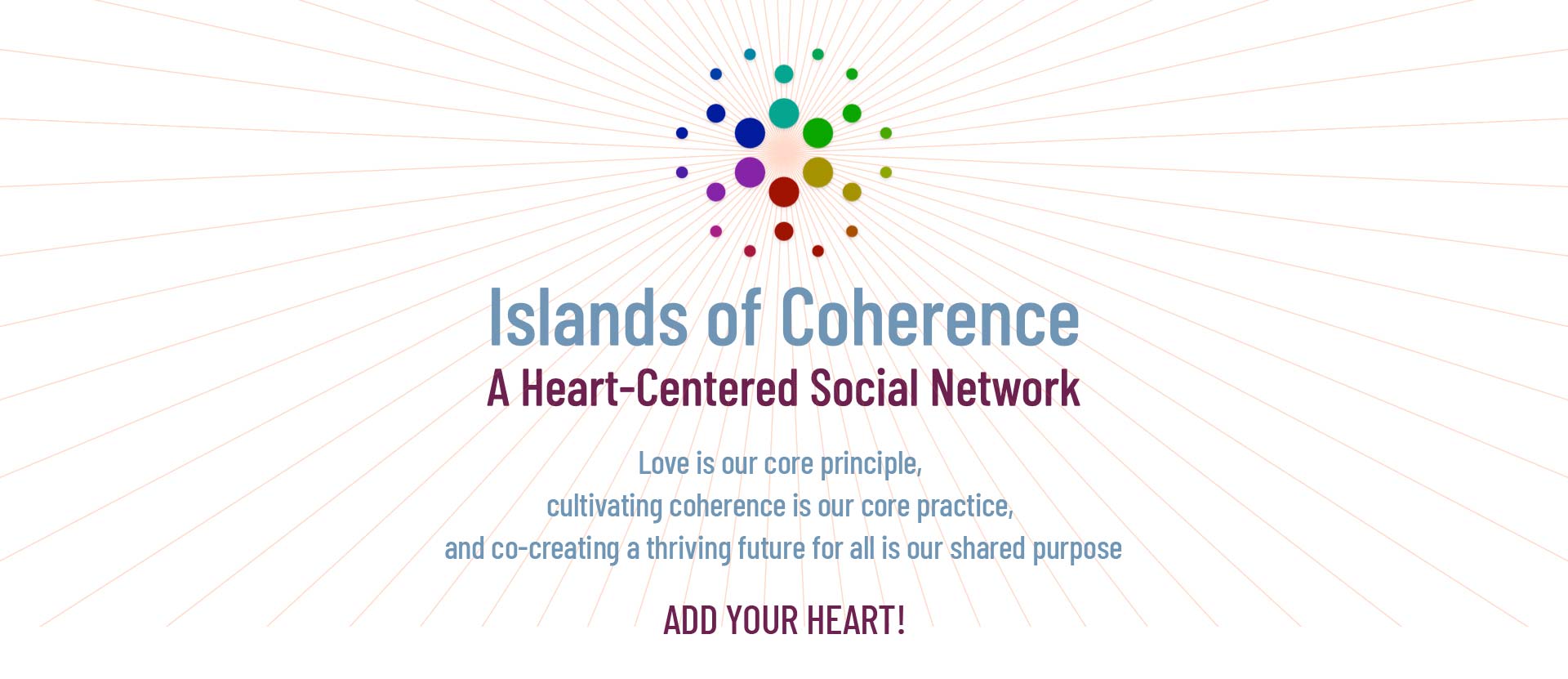 If you believe a small segment of humanity living in heart-centered coherence can help shift the tide from a world fed by fear to a world led by love, then we invite you to join the Islands of Coherence Network.
Imagine we are co-creating a vibrant "virtual village" like space where we can connect, share, engage and play with other like-hearted peers, groups, organizations, events and activities that empower us to embody and experience more coherence (LOVE) in our lives and in the world.
A thriving world is an inside
and it takes a village to sustain it!
PARTICIPATING CLUSTERS INCLUDE:
Many of your favorites all in one place and new ones to explore!
Imagine a personalized social dashboard and events calendar (desktop & mobile) where you choose what you see based on the clusters, topics, deep dives and people you follow.
Access & contribute to a growing library of content, resources, events & activities that support our:
Vibrant Health & Well-Being
Individual & Collective Coherence Building
Releasing Collective Trauma
Discovering & Activating Purpose
Increasing Collaboration & Synergy
Joy, Playfulness & Co-Creativity
Where we invest our time, and what we focus our attention on grows!
Why Pay a Membership Fee?
Where we choose to invest our time, attention, resources and creativity right now has a direct impact on the choices we make and our capacity to sustain them as we move through these challenging and potentiated times.
If everyone contributes we can have "spaces" like this that are free of advertisements or someone controlling what we see or share.
This is our playground to co-create and steward together, and when we each contribute what we can, we establish a sustainable base from which to grow and flourish.
Choose the Membership Plan that honestly reflects your capacity to give.
Become a Member Today!
Islands of Coherence Network Scholarship Membership
We created this partial scholarship plan for students, seniors and those, who find the regular membership fee a challenge.
Islands of Coherence Network Regular Membership
Join us in a heart-centered community network empowering its members to embody more coherence in the world.
Islands of Coherence Network Sponsor Membership
Pay it forward! This plan includes a regular membership and sponsors a member, who has applied for a full scholarship.